Craniofacial Orthodontics NYC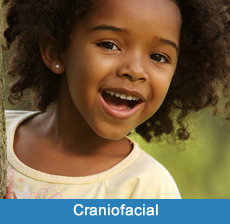 At the Orthodontics Center of NYC, Dr. Michael Gelb is at the forefront of  orthodontic treatment modalities for patients with craniofacial anomalies. He is passionate about this sub-specialty and offering the most effective state-of-the-art the treatments.
Please note: It is unnecessary to obtain a dentist's referral to visit The NYC Orthodontics Center. The NYC Orthodontics Center's comprehensive treatment planning will present you with all available treatment options and advise you to the risks and benefits of each treatment and the related costs.
Dr. Gelb offers complimentary Skype consultations to any potential craniofacial orthodontic patient on any continent. If you are an out of town / state / country patient please use this link to learn more about out of town orthodontic travel arrangements.
Craniofacial orthodontic treatments compliment the patient's medical treatment to improve surgical outcomes, and in some cases, reduce the need for surgical treatment at all.
Craniofacial orthodontics is a subspecialtv of the Orthodontics Center of NYC.  Craniofacial orthodontics focuses on the multidisciplinary and interdisciplinary treatment of patients with any congenital or acquired facial anomalies.
The most common anomalies treated by the craniofacial orthodontists include:
Cleft lip and/or cleft palate

Craniosynostosis

Hemifacial

microsomia

Cleidocranial

dysostosis

Apert's

syndrome

Cruzon's

syndrome
Pierre-Robin sequence

Treacher-Collins

syndrome
Stickler's syndrome
Van der

Woude

syndrome
Craniofacial tumors/growths
Post-traumatic facial injuries
Facial asymmetries
Please note: Current best practice standards for craniofacial orthodontics call for a coordinated plan of care between the NYC craniofacial orthodontist, and plastic-craniofacial surgeons (among other specialists which vary from case to case) in order to achieve excellent and aesthetic facial results.
If you have any questions for the Upper East Side, NYC Orthodontist in regards to craniofacial asymmetry orthodontics treatments or would like a complimentary consultation  please feel free to contact Dr. Michael Gelb c to make an appointment.
Orthodontics Center of NYC
Michael L. Gelb, DDS, MS
635 Madison Avenue, #19A
B/W: 59th & 60th Street
New York, NY 10022
T: (646) 524-7474