NYC Functional Braces Orthodontists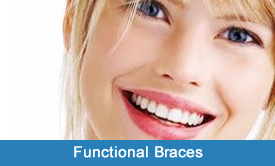 With functional orthodontics, braces serve a greater purpose than for just straightening teeth. The Orthodontics Center of NYC offers function orthodontics to help our patients achieve a healthy occlusion (bite), an attractive facial profile and a straight, attractive smile. Functional orthodontics is a technique to modify jaw growth to harmonize the shape of the lower jaw to the upper jaw. A functional orthodontist places emphasis on the facial profile as well as straight teeth when doing orthodontics;and when necessary, uses very customized specific treatments to relieve pain.
In other words, beautiful faces as well as beautiful teeth and smiles are the goals of functional orthodontic treatments. Functional orthodontics with braces can create a more beautiful face. 
Please note: It is unnecessary to obtain a dentist's referral to visit The NYC Orthodontics Center.
The Orthodontics Center of NYC's  goal is to provide our patients with best in class state-of-the-art functional orthodontic care in a friendly and professional environment. Dr. Gelb's  distinguished career as a specialist in orthodontics, dentofacial orthopedics and temporomandibular dysfunction (TMJ) has spanned over 30 years.
Functional orthodontics is customized to address the specific needs of the patient. Functional Orthodontics uses custom-fabricated dental appliances and/or braces to move the teeth into proper alignment. Based on a neuromuscular approach, functional orthodontics also preserves the health of the temporo-mandibular joints and jaw muscles. 
Functional orthodontics is also an excellent option for our NYC patients to relieve pain and other medical conditions that stems from the jaw such as headaches, facial pain, tender muscles and joints, TMJ, grinding, sleep apnea, nervous system imbalances, Tourette's Syndrome, and a limited range of oral motion.
What are the most common reason people elect functional braces:
Excessive wear and chipping of front teeth
Severe crowding or spacing

Cross-bite

of front and back teeth
Limited tongue space
Sleep apnea
To improve the underdevelopment of the jaws and face due to poor nutrition or genetics
To improve facial features
Signs that you or your child may benefit from Functional Orthodontics:
Crowded teeth
Snoring
Sinus problems
Allergy problem
Mouth breathing
Bed wetting (indicative of a sleep breathing disorder)
Behavioral problems (ADD, ADHD, Depression, Anxiety)
Headaches/migraines

If you have any questions for the Upper East Side, NYC Orthodontist or would like a to schedule a consultation to discuss Functional Othodontics, please feel free to contact Dr. Michael Gelb's NYC office:
Orthodontics Center of NYC
Michael L. Gelb, DDS, MS
635 Madison Avenue, #19A
B/W: 59th & 60th Street
New York, NY 10022
T: (646) 524-7474