TMJ Specialists NYC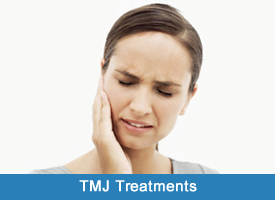 The Orthodontics Center of NYC spearheaded by Dr. Bonita Lippman is recognized as one of NYC leading orthodontic specialists in the treatment of TMJ / TMD. TMJ / TMD is a serious and painful medical condition and is oftentimes be covered by your insurance. Additionally if you have TMJ as a result of an accident, you most likely will receive TMJ reimbursement. 
The Orthodontics Center of NYC  is conveniently located on New York City's Upper East Side between Lexington Avenue & Park Avenue @ 121 E 60th Street, #1C-b, New York, NY 10022. The Orthodontics Center of NYC's  goal is to provide our patients with affordable state-of-the-art orthodontic care in a friendly and professional environment.
"TMJ" stands for "temporomandibular joint", which is known as the  jaw joint. There are two TMJs: one in front of each ear. The TMJ is the joint formed by the temporal bone of the skull (temporo) with the lower jaw or mandible (mandibular). These joints move each time we chew, talk or swallow. When an individual is diagnosed with TMJ by the Upper East Side, NYC orthodontist, it means that the individual has a disruption in the action of the jaw.  "TMD" stands for "Temporomandibular Disorder". TMJ and TMD tend to be used interchangeably.
The Orthodontics Center of NYC can alleviate your TMJ / TMD by starting with a comprehensive TMJ evaluation, complete with 3D imaging to determine if degenerative progression has transpired. Dr. Lippman is one of the best-trained orthodontists in NYC for TMJ Disorders, or TMD, and has worked on hundreds of complex cases with success.
After your TMJ / TMD condition has been properly diagnosed, the NYC TMJ specialist will determine the best way to balance the intricate relationship between the proper bite and the muscles and nerves of the jaw joint to relieve your pain and symptoms. Depending on your specific case, your treatment plan may entail: deprogramming, Invisalign, bite balancing, appliance therapy or a combination of the above to treat your bite problem which is causing TMJ / TMD. An unstable or misaligned bite can cause both jaw joint displacement and muscle strain and pain resulting in TMJ / TMD. The best in class NYC TMJ specialist orthodontist can diagnosis if you TMJ /TMD is a result of a bite or jaw malfunction or congenital defect.
Many seemingly unrelated symptoms results from TMJ / TMD which are collectively known as craniomandibular dysfunction. You may have TMJ/ TMD if you have one or more of the following symptoms:
Pain in the jaw
Headaches
Neck aches
Pain, ringing, or stuffiness in the ears
Clicking or popping sound when the jaw moves
Migraine headaches
Chronic headaches
Stuffiness in the ears
Pain behind the eyes
Shoulder and lower back pain
Dizziness and fainting
Difficulty swallowing
Tingling of the fingers and hands
Locked jaw or limited opening of the mouth
If you have any questions for the Upper East Side, NYC TMJ specialist Orthodontist or would like a complimentary consultation in regards to TMJ / TMD treatments with the doctor – please feel free to contact Dr. Bonita Lippman for a complimentary TMJ Orthodontics consultation or to schedule an appointment.
Orthodontics Center of NYC
121 E 60th St
#1C-b
New York, NY 10022
T: (212) 201-9121